frp anticorrosive tile manufacturer
FRP anticorrosive tile is a kind of highly effective anticorrosive composite board. It uses domestic high-quality anticorrosive resin as the main raw material, Taishan or Boulder high-quality glass fiber as the reinforcing raw material, Werprot L-48U weather-resistant coating and Melinex 301 film as the surface protection layer, imported color paste as the resin colorant, and a high temperature of 160 degrees Celsius Next molding. Its mechanical properties, chemical stability, and anti-corrosion properties are unmatched by ordinary glass fiber reinforced plastics. It is resistant to acid, alkali, salt and water vapor. Its temperature limit is -50 degrees Celsius to 130 degrees Celsius. This product is a new type of substitute for metal color steel tile and ordinary PVC sheet, and it is the first choice of anticorrosive tile for building roofing (isolation of working area) in metallurgy, chemical industry and other industries.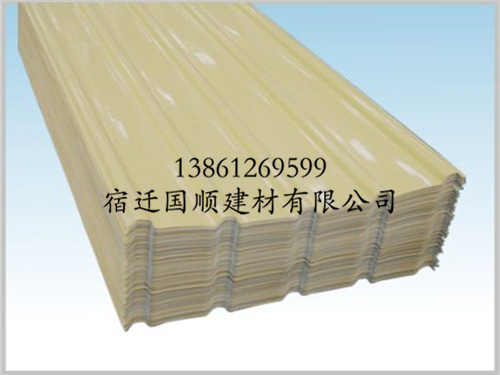 Suqian Guoshun Building Material Co., Ltd. is located in Suqian, the hometown of Xiangyu, a beautiful and economically developed city. The company's main products are plastic steel decorative tile, plastic steel transparent tile, plastic steel antique tile, plastic steel wave lighting tile, glass steel wave lighting tile, plastic steel anticorrosive tile manufacturing, processing and sales, building materials, hardware, metal materials, glass steel products, plastic products sales.
In the face of fierce market competition, we adhere to the brand quality-oriented, strictly in accordance with IS09001 standards, pay close attention to quality management, and actively develop new products according to market needs to ensure that we provide customers with quality products and perfect service.
Haiqianbaichuan, capacity is big, Suqian Guoshun Building Materials Co., Ltd. is willing to cooperate sincerely with friends from all walks of life to create brilliant!
The content of this article is taken from http://sqgsjc.fht360.com/, if you need to reprint, please indicate the source.